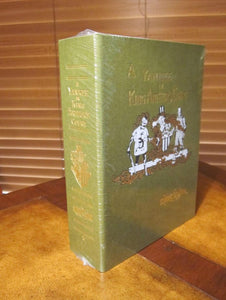 Easton Press YANKEE IN KING ARTHUR'S COURT SEALED Deluxe Limited Edition
Regular price $699.00 Sale
Easton Press


Mark Twain's
A CONNECTICUT YANKEE IN KING ARTHUR'S COURT
Mark Twain's landmark novel, in an extraordinary re-creation of the lavishly illustrated First Edition...
Easton Press presents an extraordinary reproduction of the First Edition of Mark Twain's classic A Connecticut Yankee in King Arthur's Court. This is Twain's immortal story of the Connecticut engineer transported back to the days of King Arthur in a Deluxe Limited Edition that features all 220 original, vintage illustrations, the complete and unabridged text, and the elaborate cover design from the landmark First Edition published in 1889. Features include:
An extraordinary reproduction of Mark Twain's beloved novel

 

A Connecticut Yankee in King Arthur's Court, originally published in 1889.
Here are all the vintage illustrations by Daniel Carter Beard -- over 200 in all!
Each volume fully bound in genuine leather.
This remarkable edition is limited to 300 hand-numbered copies.
The cover design, stamped in three colors, evokes the original cover.
Features genuine hand-marbled endpapers -- no two exactly alike.
A custom-crafted clamshell case.
A raised "hubbed" spine deeply embossed with genuine 22kt gold.
Acid-neutral paper that will not crumble with age.
And much more!
6 1/2" x 9", 576pp
Factory Sealed - Shrink Wrapped