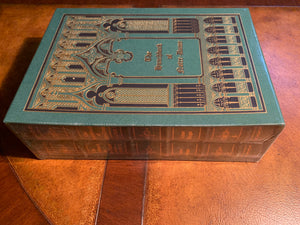 Easton Press THE HUNCHBACK OF NOTRE DAME Hugo Deluxe Limited Edition SEALED
Regular price $759.99 Sale
Easton Press

Victor Hugo's THE HUNCHBACK OF NOTRE DAME
Victor Hugo's Immortal Story of Compassion and Salvation...Re-Creating The Historic 1888 Illustrated English Language Edition.
Victor Hugo's moving story of the deformed bell-ringer Quasimodo, the bewitching Gypsy Esmeralda, and the tortured Archdeacon of Notre Dame whose forbidden love drives him to the brink of madness stands as one of literature's greatest masterpieces. This magnificent slipcased set reprints the stunning two-volume, oversized, illustrated edition of 1888. 
Limited to 800 hand-numbered sets.
Actual size of books are 7 1/2" x 10 1/2"
Factory Sealed - Shrink Wrapped