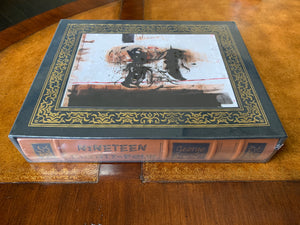 Easton Press NINETEEN EIGHTY-FOUR - Deluxe Illustrated 1984 George Orwell SEALED
Regular price $799.99 Sale
Easton Press

NINETEEN EIGHTY-FOUR - Deluxe Illustrated Edition
A Deluxe Illustrated Edition personally signed and illustrated with specially commissioned artwork by Bruce Waldman.
George Orwell's haunting masterpiece...
In an alternate future, Winston Smith rewrites history for the Ministry of Truth, so that it matches the totalitarian government's current needs. Only now he must stand up to Big Brother. The book features a wealth of images specially commissioned from acclaimed artist Bruce Waldman, including 11 full-color plates hand-tipped in each volume, and protected by translucent overlays. Includes a custom-crafted slipcase.

A hand-numbered Limited Edition of just 1,200!
9" x 11 1/4", 368pp 

Factory Sealed - Shrink Wrapped