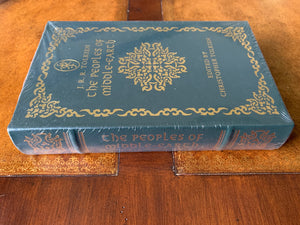 Easton Press J.R.R. TOLKIEN'S THE PEOPLES OF MIDDLE-EARTH SEALED
Regular price $399.99 Sale
Easton Press

J.R.R. TOLKIEN'S THE PEOPLES OF MIDDLE-EARTH
An extraordinary resource for The Lord of the Rings by the immortal fantasy author …

Collected from Tolkien's archives, this fascinating work traces the evolution of the Calendars, the Hobbit genealogies and the Westron language. The book also features early drafts of the Prologue and Appendices of The Lord of The Rings that existed years before the stories' publication.
With its premium leather binding, a hubbed spine accented with true 22kt gold, and gilded page ends, this luxurious volume is the state-of-the-art in fine bookmaking.
5 1/2" x 8 7/8", 504pp
Factory Sealed - Shrink Wrapped