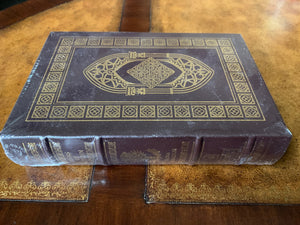 Easton Press DRUMS OF AUTUMN Book 4 OUTLANDER Diana Gabaldon SIGNED SEALED
Regular price $299.00 Sale
Easton Press

DIANA GABALDON: Drums of Autumn, Signed Edition
Personally signed by Diana Gabaldon....
The acclaimed Outlander saga travels to the American colonies for the acclaimed fourth book in Diana Gabaldon's beloved series. Gabaldon established a brilliant new genre mixing fantasy and romance to create a saga that has captured millions of readers.
This Easton Press exclusive edition is bound in genuine leather and features a hubbed spine accented with true 22kt gold, gilded page ends, moiré fabric endsheets, and a satin-ribbon bookmark to conveniently mark your place.
6 1/8" x 9 1/4", 896pp
SIGNED EDITION
Factory Sealed - Shrink Wrapped