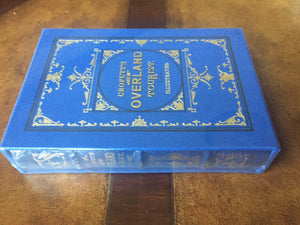 Easton Press CROFUTT'S NEW OVERLAND TOURIST Clamshell Edition SEALED
Regular price $119.00 Sale
Easton Press

CROFUTT'S NEW OVERLAND TOURIST
From the rarely seen 1878-79 Illustrated Edition...


Imagine: it's the 1870's.  You're an American who can now travel across the country on the new railroad. Horace Greeley says "Go West, young man." But how do you know where to go? Crofutt's New Overland Tourist, of course! This fully illustrated guidebook -- complete with maps, vintage advertisements, and much more -- provided an unequaled look at America's majestic West and the train to get there. These guides were well used, making pristine original editions rare, and expensive.
Bound in blue, smooth-grain leather, this Easton Press Edition bears an intricate cover design reminiscent of the Golden Age of commercial bookbinding. Vintage foldout engravings and more are preserved on archival-quality, acid-neutral paper that is Smyth-sewn into the binding. The spines feature an ornate, multi-compartment design in 22kt gold with raised hubs. A matching, velvet-lined slipcase, gilded page ends, marbled endpapers and a satin ribbon marker complete the look. 
Printed and bound in the USA.  5 1/4" x 7 1/2", 290pp
Factory Sealed - Shrink Wrapped