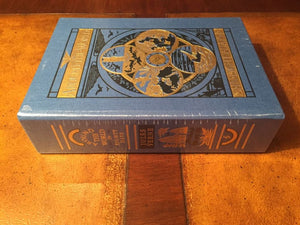 Easton Press AROUND THE WORLD IN 80 DAYS Verne SEALED Deluxe Limited Edition
Regular price $499.99 Sale
Easton Press

AROUND THE WORLD IN 80 DAYS
The rare lavishly illustrated, 1873 English language edition…
Jules Verne's beloved adventure novel – and the ultimate.race against time – in a spectacular recreation of its illustrated First English language edition of 1873. From Victorian England and colonial India to the "mysterious" Southeast Asia, and the "wild" American West, Phileas Fogg and his loyal valet, Passepartout undertake one of literature's greatest adventures on their quest to circumnavigate the globe.

Each hand-numbered volume features genuine hand marbled endsheets and a custom-crafted clamshell slipcase.


Limited to just 1,000 hand-numbered copies.
Factory Sealed - Shrink Wrapped